In the first week of Australia's involvement in World War One, anyone of German or Austro-Hungarian descent who was in Australia, had to register with the Police. During the four years of war, 7,000 people were interned in camps throughout Australia. Most of the detainees were deported back to Germany after the war, regardless of whether or not they left behind Australian wives and children. Some had lived and worked here for many years; some were born here but had German ancestry. It made no difference.
Alfred had Anglicised his name from Adolf Bergman to Alfred Berg, but in the hype of war, anyone with a name that sounded German was at risk of being labelled an 'enemy-alien', and Australians were encouraged by the Government to report them.
Impact of World War One
From 1915 to 1919, Alfred and Edith Berg lived in Yetman, a small town about two-hours drive (by today's standards) south of Tenterfield, in the Shire of Inverell.
Perhaps it was because one of their own had been killed in action at Gallipoli on the 6th August 1915 that a Yetman citizen wrote to the Head of the Post Office in Sydney. The 'unknown' citizen claimed that Mr and Mrs Berg were disloyal citizens, with accusations of 'favouring German goods over Australian' and that Mr Berg had not enlisted in the war (pages 275 & 276).
Regardless of the motivation for the complaint, a meeting was called and held in the community at 3pm on Saturday 8th December 1917. A Chairman was elected, and the nature of the complaint was reported to the large number of residents who attended. When asked to stand up if they thought Mr and Mrs Berg were loyal citizens, all but two stood in support of Alfred and Edith Berg. The matter was settled, and fortunately recorded in the Warialda Standard and Northern Districts' Advertiser on Monday 31st December 1917 (accessed in Trove 20 Sep 2021), or we, the descendants of Alfred and Edith might not have known about this traumatic experience in our Parents / Grandparent's lives.
The following is an account of the newspaper article cited above, taken from Trove.
From Trove – (accessed 20th Sep 2021).
"Public Meeting at Yetman.(From our correspondent) A communication having been received by the D.P.M. General, Sydney, to the effect that the residents of Yetman were complaining that the loyalty of Mr. and Mrs. Berg (our local Postmaster) was a matter of doubt, a special meeting was called by the residents to inquire into the matter on Saturday, 8th inst. at 3 p.m. The information being circulated throughout the town and district caused much comment and the feelings of the people ran high as to this false rumour. Long before the time appointed, the residents assembled, and this was one of the largest and most enthusiastic meetings ever held at Yetman. In opening the meeting Mr. R. C. Graham proposed, and Mr. J. Y. Sutton seconded, that Mr. Jim Callachor take the chair. Mr. H. Bax then proposed Mr.Hugh Fraser, which was seconded by Mrs. E. Cross. The question was then put to the meeting and resulted in favor of Mr. Callachor. Mr. Callachor heartily thanked those present for giving him the honor. In addressing the meeting the Chairman said :-
Ladies' and gentlemen, you are all aware why we have assembled here to day. I am pleased to see such a representative meeting of citizens, willing to come forth to deny this false accusation, which has been laid against Mr. and. Mrs. Berg. I am a well known resident of this town, and I have never witnessed anything like this before. During Mr. and Mrs. Berg's period here, I believe and find them to be very loyal citizens. Mr. Berg would have offered his services to enlist, but had to postpone it for some time owing to unforeseen circumstances. Mrs. Berg's only eligible brother is invalided home from the front, after two years service, and she also has four cousins in the firing line. I now ask if there is any lady or gentleman present today in doubt as to the loyalty of Mr.and Mrs. Berg, to come forward and make a statement to that effect for now is the time and place to do so.(Nobody came forward). I now ask you ladies and gents are we, the citizens and residents of Yetman, going to stand by and allow our values to be axed by some person unknown without our actioning to destroy innocent people's characters (No !) I don't want to be ….. or thanked for the stand I've taken today. It is only a duty any man would do to protect an innocent man and woman. I now ask those who believe Mr. and Mrs. Berg to be loyal citizens, to stand up. The audience all rose but two. "Now this matter having been proved I have here a petition which l will read and ask you to sign.
THE PETITION
We, the undersigned residents of Yetman hereby protest against the communication that has been sent to the D.P.M General, to the effect that the residents are in doubt as to the loyalty of Mr. and Mrs. Berg. We believe this information to be false, and we find Mr. and Mrs. Berg during their period here, to be excellent types of citizens and loyal subjects. We also ask for the original copy to be sent to Mr. Berg. 52 names were signed on the petition.
Independent of this W. A. Varley, Postal Inspective, Armidale, held an inquiry at Yetman on Thursday, 6th inst. in this matter. The …. were :– Messrs G W Dight, M. J. Callachor, J. Callachor, T. Callachor, E. Freer, P. Sutton, Sergeant Elbel, A. Smith, J. Potts, W. Ryder All gave evidence as to the sterling qualities of Mr. and Mrs.Berg, and declared the communication to be false. Several letters were previously sent to Mr, Varley, Armidale, in support of Mr. Berg, including from Messrs James White, "Tucka Tucka" station ; G. W. Dight, Yetman station ; Callachor Bros, Emerald Vale ; W. O. Phillips, " False Forest.""
Ref: Public Meeting at Yetman

Warialda Standard and Northern Districts' Advertiser (NSW : 1900 – 1954), Monday 31 December 1917, page 2
Thesis
Not only was the Berg's story recorded in the local newspaper, it was also told in a Doctoral Thesis by Ross Warwick McLachlan in 2009 (School of History and Philosophy Faculty of Arts and Social Sciences University of New South Wales – pages 275, 276):
A Marriage of Convenience: Women and the Post Office in New South Wales, 1838 to 1938:

Ross Warwick McLachlan.
To have endured the death of their six-month old baby (Norman Alfred) in 1915 was bad enough, but to be dragged through the trauma of a false accusation in 1917 must have been heart-breaking for Alfred and Edith. Even the documents in Alfred's possession, proving his Swedish heritage and Australian Naturalisation, were not enough to satisfy the one resident who insisted on linking the Berg's to Germany. Luckily justice prevailed and the Berg's continued a close relationship with the Yetman community for another two years. One can only wonder how the complainant fared in that small, close-knit community after the successful meeting in Yetman.
Having learned about the internment and eventual deportation of German Descendants during and after the war, we should feel blessed that the outcome of that meeting in Yetman, based on false accusations in 1917, ended the way it did. Most of us would not be here now, if it hadn't.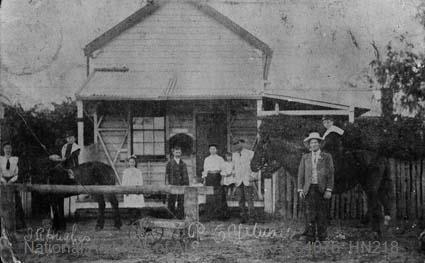 These photos are probably what the Post Office looked like when Grandma and Grandfather were in Yetman.